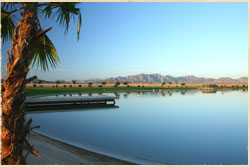 The Coyote Wash development is master-planned around two nine-hole golf courses, each designed to challenge and entertain players while offering spectacular desert and mountain views. More than 2,500 homes will eventually surround these courses, and the first and eighteenths holes of both courses will meet in the center of the community.
The first nine holes of The Links at Coyote Wash opened in December, 2003 and is open to the public for play, as well as clubhouse, pro shop and restaurant. To view a course layout of the front nine, click here. The back nine is slated to open in December, 2005. To view a course layout of the back nince and surrounding home sites click here.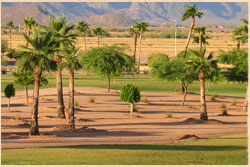 The second nine holes of The Links at Coyote Wash has been designed by Gary Panks Associates, regarded as one of the top golf course architecture firms in the country. Mr. Panks is an award-winning designer, noted for his creative design ability and sensitivity to the natural environment. His landscape, architectural, and planning skills combined with his knowledge of the game, have produced many of the nation's most beautiful and enjoyable golf courses.
To view examples of award winning courses designed by Gary Panks, visit his portfolio of past works at www.garypanks.com.